5 Tips for Selling your home July 28, 2017

When you hire Tony Vejar as your professional Realtor he will go through all these items with your plus a tons more to help you Sell your home and sell it fast.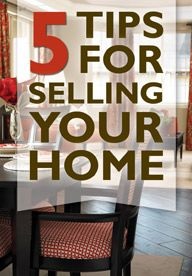 Here are 10 helpful tips to help sell your home more quickly:
1. Price it right. Tony Vejar's professional opinion says price is a top priority when selling a home. To determine the right price, he researches recent sales in the immediate neighborhood and surrounding area when he lists a property. Tony Vejar creates a market analysis (comparable's in the area) for his clients, looking at the number of homes that have sold in the area. The more homes on the market, the more aggressive the pricing needs to be.
"It always comes down to price, condition and exposure," said Tony Vejar, a Realtor for My Home Group. "And of the three, pricing is paramount. You can overcome the other two if the home is priced appropriately, but if the price is off, it's going to be a long stay on the market, regardless of how nice the property is."
2. Update carpeting and paint. Skip the kitchen remodel if you are selling your home, said Tony Vejar, and put your money into painting rooms throughout the house. And change that ratty carpeting.
Tony says clients are often resistant to replacing carpeting, thinking a carpet allowance is the answer.
"The problem with that is you never get that emotional impact you get when someone walks in and sees nice new carpet," he said. "Every time my client has changed the carpet, it has always dramatically increased the speed of the sale and paid back more than was put in."
3. Professional photos. With a high percentage of buyers now viewing homes online, it is imperative that sellers have good-quality photos taken of the home's interior and exterior. Good photos will help the buyer take the next step and request a showing Our team will include professional photos with all our listings with no additional fee.
4. Depersonalize the space. Take down all those family photos from 10 years ago and pack your elk trophy and remove all family photos. Unlike interior decorators, stagers do not create a personal style that suits the homeowner, but rather a more neutral palette of colors, furniture and design to appeal to a broader group of buyers who can then better visualize themselves in the space.
5. Declutter. Declutter, declutter, Rent a storage space for excess furniture, pictures, boxes and other belongings. Remove things from the floor (including some rugs and shoes in the closet) to make each room look more spacious. Clear off kitchen and bathroom counters, tables and desks.
Please don't hesitate for us to come out and give you a free evaluation.
Tony Vejar
5 tips for Selling your Arizona Home